Regular price
$109.73 USD
Regular price
Sale price
$109.73 USD
Unit price
per
Sale
Sold out
Give the ultimate gift of self care and relaxation. Recharge with our Maria gift box, filled with products to help you get that good rest.
This curated gift box is created to promote wellness, happiness, and well-being. This self care package is a thoughtfully curated gift filled with treats that will help you unwind and recharge after a long day. It's a great gift for anyone who has had a stressful week or is just looking for an excuse to treat themselves. Help them to prioritize self care by sending this perfect care package for them.
This box comes with products from local Canadian businesses, so your recipient will feel extra special knowing that you were thinking of them. It's the perfect way to treat yourself or a loved one with a care package that is affordable. Unwind, recharge, and relax—with this local Canadian self care gift box that gives back.
Packaged in a white gift box, wrapped with a satin ribbon and includes a complimentary greeting card.
Inside the box:
• Magnesium Oil (So Luxury)
Magnesium Oil is for use at the end of the day to promote a sense of relaxation and wellbeing through massage.  Apply before bedtime to the neck and shoulder area, lower back, legs or even the bottoms of your feet.
• Lavender Eucalyptus Soap Bar (Suntree Soaps)
The calming & relaxing qualities of Lavender are much loved.  The sweet floral notes have been known to reduce stress and anxiety.  Lavender essential oil has natural antibacterial properties.  Good for all skin types, this bar is coloured with madder root powder and Indigo root powder with botanicals of lavender buds.
• Nourishing Sheet Mask (Maskeraide)
Prepare for your beauty sleep with our BEAUTY REST'ORE hydrating sheet mask that goes to work for silky, smooth and supple skin.
Benefits
• Restores the skin's health naturally
• Deeply moisturizes skin
• Relaxes the skin and senses with the power of lavender oil
• Helps to minimize the appearance of skin imperfections
• Duchess of Earl Tea (Tease Tea)
A sophisticated spin on a classic favourite, with hints of rose and creamy notes, creating a decadent experience with every sip.
• Raw Liquid Honey (Beaver Creek Honey)
• 4oz Garden Soy Candle (Wick'd Petals Candle Co)
This soy-based tealights have been infused with a blend of jasmine, violet, and berry fragrance oil. To add the perfect botanical touch, a variety of dried flowers from an Edmonton garden are added to the candle.
• Charcoal Garden Bath Soak (Bathorium)
Organic activated bamboo charcoal pulls toxins and free radicals from the skin while the spicy oils of basil and calming lavender soothe the mind. Epsom salts + french sea salts relax your aching muscles while a skin softening coconut milk envelops your entire body.
• Lavender Eye Pillow - Black Marble (Samyoga)

Lavender Flaxseed Eye Pillows are the perfect addition to your yoga practice and self care routine. Use your eye pillow at the end of yoga practice and before sleep. 
The weight of the eye pillow will soothe tired eyes and the scent of lavender has a naturally relaxing effect. 
Eye pillows can be used at room temperature, heated in the microwave, cooled in the freezer & refreshed with your favourite essential oils. 
Filled with flaxseeds & dried lavender flowers.
Outer cover is removable
Machine wash in cold water, lay flat to dry. 
• Mini Dried Floral Arrangement (The Social Florist)
*We reserve the right to substitute products, of equal or greater value.
View full details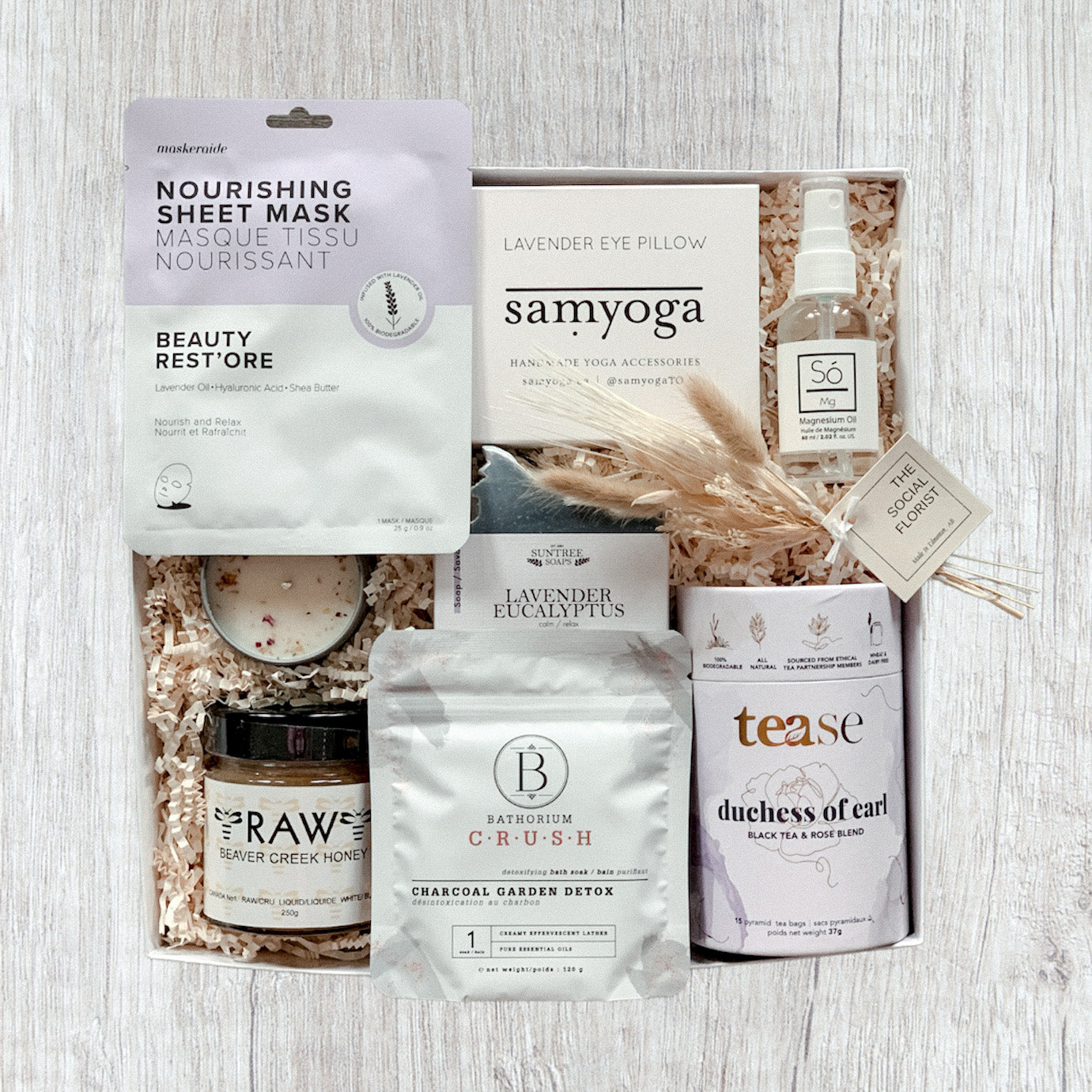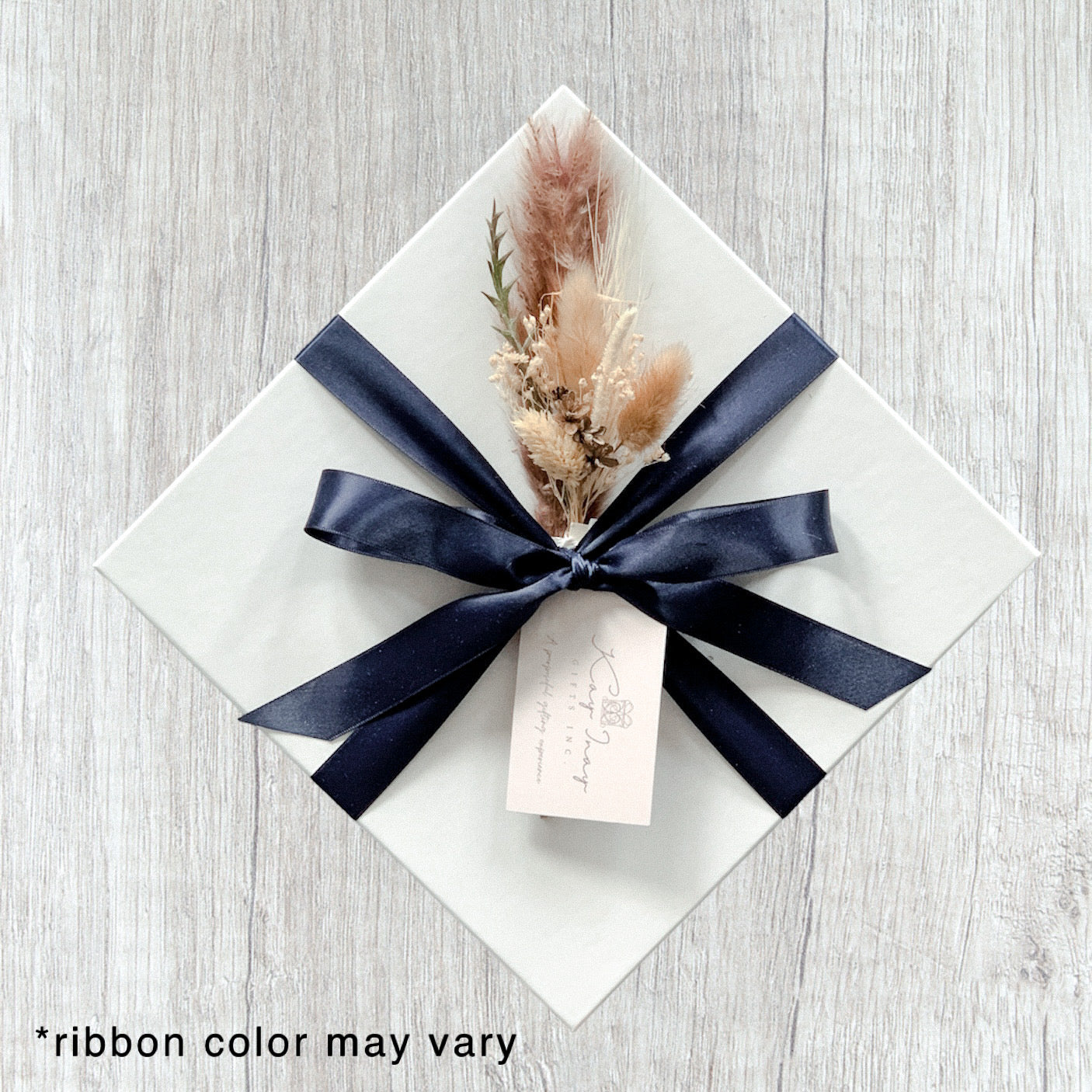 Shop Local Canada and Send Gifts that Give Back
Kay Inay Gifts Inc. got you covered in sending the best locally curated gift baskets and gift boxes in Canada. We've got the perfect gift for your loved ones in Canada: a gift box full of locally made, Canadian products. We offer thoughtfully curated Canadian gift boxes and Canada gift baskets featuring locally made products. We know, it can be hard to find something that's both meaningful and affordable, so we have made available a wide selection of Canadian made gift products that are sure to make anyone who gets them smile. Our curated Canadian gift boxes contain only the best locally made products, so your recipient will know that their gift was hand-picked by someone who truly cares about them. With a range of options to choose from, we have something for everyone on your list—no matter who they are or what their interests might be. 
We believe that the best gifts come from the heart. And when it comes to giving the perfect gift, there's no better way to show that you care than by giving a gift that is made with local Canadian love. And for every purchase of our curated gift boxes Canada, you are supporting Canadian small businesses, planting a tree and donating to charity. Your act of giving help support local businesses and communities to thrive so they can continue providing meaningful work—and products—to everyone around them. Whether you're looking for a curated gift box Canada or want to build your own gift box, we got you.
Find the perfect Canada gift baskets and gift boxes in Canada suitable for any occasion or event, whether as a birthday gift, bridesmaid gift, Christmas gift, wedding gift, anniversary gift, client gift, housewarming gift, employee appreciation gift, holiday gift, graduation gift, Mother's Day gift, corporate gift, thinking of you gift or a just because care package - they're perfect for just about anyone on your list. Send local Canadian gift that gives back! Shop and support local businesses across Canada with Kay Inay Gifts Inc.
We deliver gifts nationwide, so you can order and ship gifts anywhere in Canada! We do gift basket delivery Canada and we also offer local gift delivery in Edmonton, Alberta and surrounding areas. Send a Canadian gift box that gives back! Shop our selection of local gift boxes today and help us to make a difference in our communities.